Our products reach a certain amount of customization, can be customized, customized packaging boxes have several kinds: carton, packaging bag, cup and barrel, plastic box, aluminum foil carton, etc.
We can directly bare bag, sealing, shipping;You can also set a customized packaging bag shipping, plus color box packaging and then shipping can be, we are generally 20 packages of a box, packed to your hand;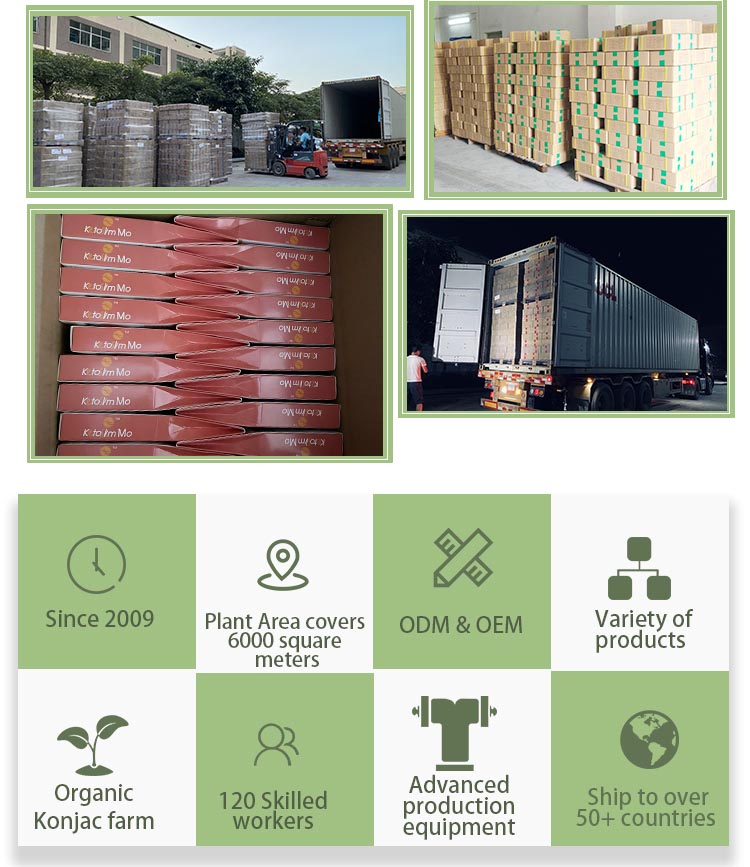 Proud to be the first - class Konjac noodle manufacturer and Konjac rice wholesale supplier in China
Ketoslim Mo is one of the best wholesale Konjac food suppliers in China. As the best wholesale Konjac supplier, we help agents and distributors of all sizes to promote themselves in an influential way. Our products are well received by customers in Europe, North America, Asia and other parts of the world. Clients who have worked with Ketoslim Mo for over a decade include some of the most famous companies in the world or the restaurant industry. Many years of production experience enables us to easily manage the entire production, we can make Konjac noodles with different flavors and shapes according to customers' preferences, which is our greatest advantage as the best food manufacturer and supplier.
As the top supplier and manufacturer of Konjac food in China, we offer a wide variety of food for you to choose from, including Konjac wet rice, Konjac noodles, Konjac dried rice, Konjac Jelly, Konjac meal porridge, Konjac tofu, Konjac wine, Konjac makeup sponge and so on, whether it is dry or wet, long or short. Or other different shapes, different tastes of food, we can make according to your needs, the price is cheap, good quality, reliable service.
As the best wholesale supplier and manufacturer of Konjac food in China, we can produce customized food of different flavors, colors and sizes for our customers. Support OEM/OBM/ODM, with our expertise and rich experience in this field, we will provide you with the best service and high quality products. In order to protect our earth, we always try to use environmentally friendly materials as the packaging of products. We are constantly innovating to find more sustainable ways to mass-produce and deliver konjac food to reduce our carbon footprint.
Rich experience
We have more than 10years experience in producing and selling Konjac food.
High quality
We have a strict quality control system, from supplier review, incoming quality control, process inspection, finished product inspection to delivery quality control.We have HACCP,BRC,ISF,international certification.
Advanced technology
Senior technical team, according to customer conditions, customized high-quality product solutions.
Good service
We have a professional team to serve you, including order inquiry, design, tracking production, delivery and customer feedback.